Dr. Jim's advice, insights and hypnosis techniques have been featured in:
Cosmopolitan Magazine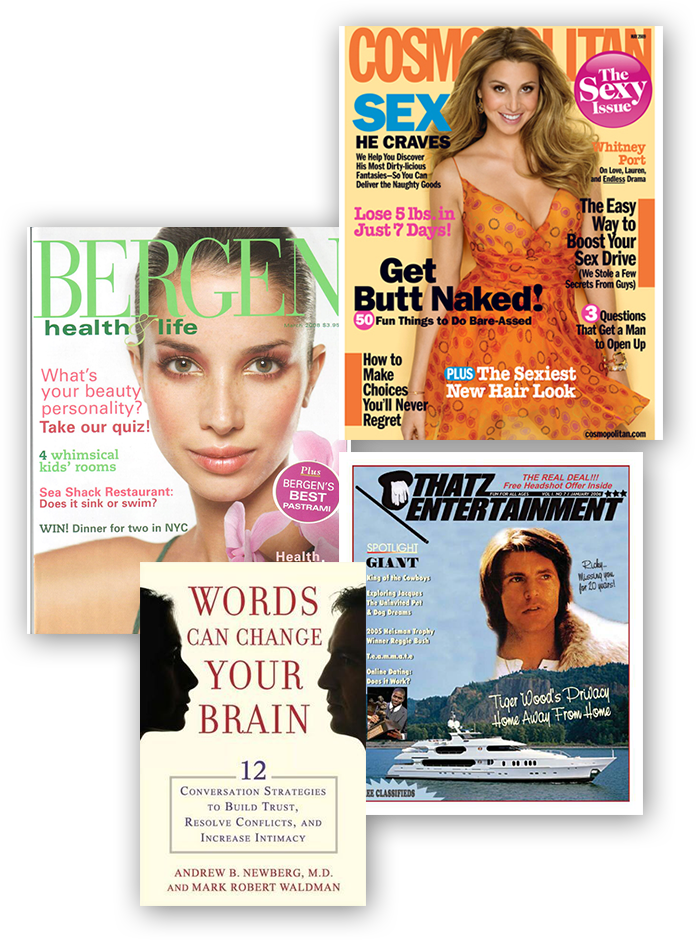 Mental Health Video Host of "WebiHealth.com"
MSNBC's 2007 "Oscar Night of the Stars"
Discovery Health's "Berman & Berman"
KCSN's "Shrink Rap"
Bergen Health & Life Magazine
iVillage.com
"The Greg Mantel Show"
Thatz Entertainment
"The Alvin Jones Show" on XM
"The Aware Show" with Lisa Gar on KPFK
Amazon.com, iTunes and CDbaby
& JPF International Music Awards
"Together, we focus on finding solutions to heal relationships, improve work situations, eliminate conflict, improve communication, find a way out of pain and create a new direction to finding happiness in love, work & life." Dr. Jim
Early intervention can prevent problems from developing into more serious, long-term situations. We will explore internal patterns and external behaviors that affect your life while developing communication skills and personal insights that will improve your personal and professional relationships. Being heard and understood clearly leads to greater connection and intimacy with others.
As a Licensed Family Therapist with a Doctorate in Clinical Psychology, I have borrowed from both fields to achieve an effective and dynamic program for helping people improve their communication, resolve problems, and realize greater personal growth in their lives.
Experience has shown that when people are given insight into their challenges and are then given the tools to deal with them, it has a synergistic effect that can assist them in achieving their goals more quickly and effectively.
My clients are given tools they can use in their daily lives to experience greater clarity, direction and satisfaction.
I believe that it's the role of the therapist to be actively involved in the therapy room. I listen and reflect, but I also contribute insightful feedback, informative handouts, personality testing, homework, behavior techniques to try at home and direct responses to any questions you have. We're in this together.
I treat you as a whole and capable person with individual needs. I place importance on people above theories. Having a strong, trusting and supportive relationship in the therapy room means that we're both real people working together to help find you the answers that you're seeking. Together, we'll explore the creative use of your drives, enhance intimacy, explore your dreams and remove the blocks to get what you want out of life.
The goal of therapy is to:
Improve mood and decrease irritability
Increase motivation and interest in life
Improve functioning in love and work
Improve sexual desire
Improve your outlook on life
Improve sleep quality and pattern
Refine your career objectives & resolve office conflicts
Strengthen your self-respect, self-confidence & self-esteem
Improve your ability to set goals and solve problems
Improve memory, energy and clarity of thought
Re-establish trust & security in your relationship
Starting with your free and confidential consultation, you can quickly begin to clear out the clutter and move forward.
Call today to set up a free office consultation for further information on LA Therapy and Counseling in Los Angeles.
The Call Is Free
The Office Consultation Is Free
Call Now!

818-753-4865


Clinical Member, California Association of Marriage & Family Therapists